Vodafone TV - movies, series and
TV online
10 000+ movies,
230+ TV channels

HD, 4K quality

Parental Control
TV pause and recording of live broadcasts up to 14 days

View content offline

Tariff megabytes are not charged
Connect tariff
So that there was always something to watch
Download movies and series to your device and watch them without an Internet connection
Connect one tariff for the whole family - watch simultaneously on TV, computer, tablet or smartphone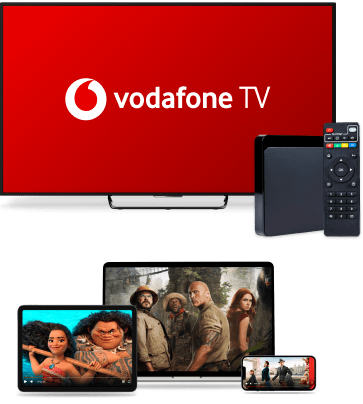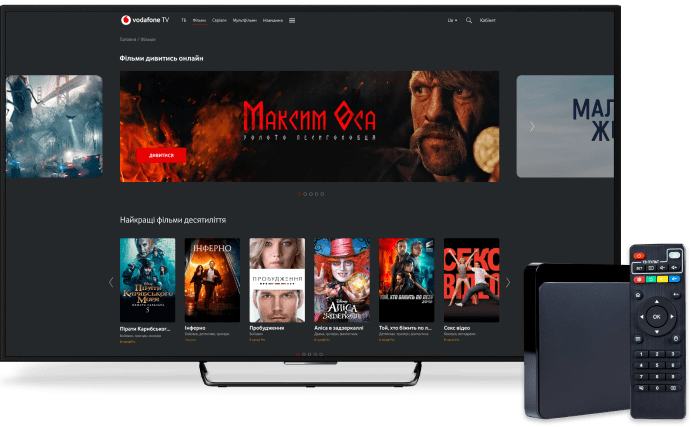 10,000+ movies
and series
HD
4K
Watch famous classics and new releases from Ukrainian and international directors online on Vodafone TV
Cult series from famous streaming companies in one place
Only the best in your tariff
The average IMDb rating of the movies available to you is 7.6
230+ channels
HD
4K
Foreign and Ukrainian TV channels
Watch national, premium, children's and sports TV in high quality
View on any device
Connect Vodafone TV and watch TV online. Download the app on your smartphone, tablet, TV, laptop
Live under your control
Rewind at any point, pause and return to viewing at your convenience
Access to program recordings for 14 days
Record your favorite shows and watch them in HD during the two weeks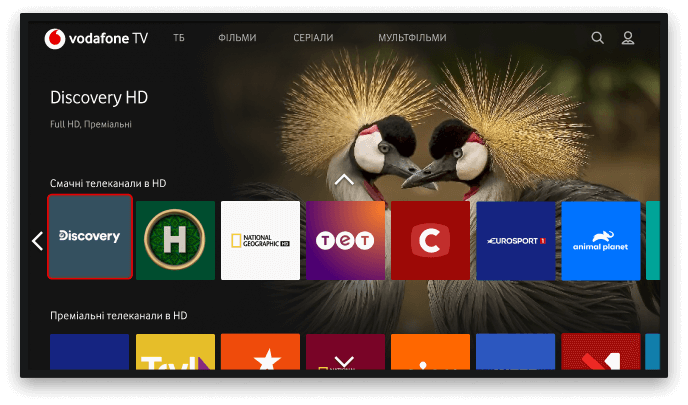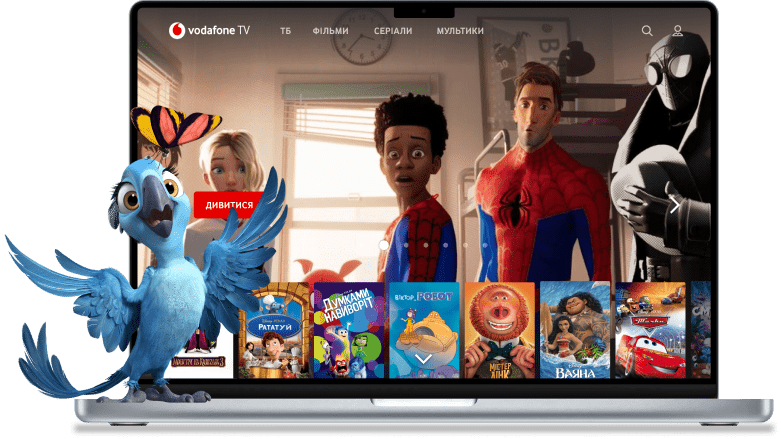 Cartoons
HD
4K
Turn on the kids or watch with the whole family: "Ratatouille", "Inside Out", "Aladdin" and many, many others. Watch your favorite cartoons without ads from Disney, Pixar, DreamWorks and others
Choose your tariff and
watch with the whole family
Start
*first 7 days are not charged
Pro
*first 7 days are not charged
Max
*first 7 days are not charged
Once again about the most important
What are the benefits of a vodafone.tv subscription?
A vodafone.tv subscription gives you access to dubbed TV and movies that you can watch online anywhere: at home, on the road, in the city and outside the city. Even in the most remote corners of the country, the main thing is to have the Internet.
You will have excellent quality TV on your device, HD and 4K in particular. National, premium, sports, kids, music, movie and adult channels - each for everyone in the family.
You can control the TV: pause, rewind and watch recorded programs (up to 7 days). If you are late for a show or a match, turn it on immediately without waiting.
So, vodafone.tv is your movie + your favorite TV in excellent quality that you can watch where it is convenient for you.
Who can connect the Vodafone TV service?
The service can be activated by all Vodafone customers having reached the age of 18.
How many devices can be connected to one account?
You can link your account to up to 5 devices: TV, smartphone, computer, tablet and even Xbox console. The content of one media group cannot be viewed simultaneously on more than 3 devices.
How to set/reset parental control password?
Parental control password can be changed only on the website. To do this, go to your personal account, select "Personal data", and then "Parental control". Set a password and activate the parental control function. It will need to be entered when watching TV channels with a restriction of 18+.
If you have forgotten your password, select "Remind password" in the "Parental Control" section - and we will send it to you via SMS.
How do you pay for the Vodafone TV service?
The payment for the selected package is charged from your mobile account automatically every 30 days. If there are not have enough funds for payment on your account, they will be immediately charged during the first top-up, and the subscription will be renewed. When the funds are charged, the service will be activated not immediately, but during the day. If you have topped up your account and want to use the service immediately, deactivate it first. To do this, send the word STOP to a short number (it is unique for each package). You can also deactivate the service in your Personal Account. Then activate it again by sending the number 1 to the short number corresponding to a certain package.
The cost of Vodafone TV packages is indicated with VAT and PF included.
The detailed information on tariffs, promotions, cost and conditions of service provision can be obtained by calling:
111 — free from a Vodafone Ukraine mobile phone (in Ukraine);
0800 400 111 — for customers of other Ukrainian operators (free from any number in Ukraine).
Do you have any questions?
Need help connecting?
Call!
111
Connect free